Top 20 Project Planning Tools to Help Cut Costs in 2021
Peter Piper ponders purchasing a powerful properly priced project planner. Which particular popular project planner pleases Peter?
Seriously, having to choose a project planning tool can twist your brain as much as this intro can twist your tongue. Words that come into mind: painful, plodding, panic, paralyzed, perplexed… You get the gist of it.
Because we're so passionate about project planning, we proudly provide you with a list of top 20 software you shouldn't miss. Here's a plethora of possibilities—from planning personal projects to prodigious proposals with plenty of people partnering on a project.
But first, some pro tips on the selection process.
How to Pick the Best Project Planning Software?
Simple Project Organization—Consider how difficult it will be to import or create your projects depending on the tool's interface.
Good Collaboration—If you're looking to have a whole team collaborate using a project planner, make sure that the tool of your choice has real-time communication, chat, messaging, and other communication channels.
Time Tracking and Invoicing—Some project planning software has built-in time tracking and invoicing features that let you create and send invoices to clients within seconds.
Flexibility—How much freedom and flexibility does the tool offer when organizing your projects? What customization options are there?
Intuitive UI—Tools with many features are a double-edged sword: they can provide a lot but it takes a long time to master using them. Consider the amount of time it will take for your team to learn how to use the software.
Additional Features—Do you plan on using the software on tablets or mobile devices? What features does the tool have that the others lack?
Tech Support—Check the kind of tech support the tool has to offer: some software comes with 24/7 live support but others only have email support.
Pricing—Consider your budget and team size before making a shortlist of planning software. Some tools charge per user, which can make you quickly burn through your budget if you have a large team.
Now that we've mentioned some of the things to pay attention to when narrowing down your options, let's take a look at the 20 project planning tools that we recommend checking out.
20 Best Project Planning Software to Use in 2021
1. Infinity — A Flexible Planning Software for Individuals and Teams
Infinity gives you the freedom to plan and organize your projects any way you like. You don't have to compromise by fitting your project planning pipeline within a workspace with limited customization options—create your own attributes, divide work into folders and subfolders, and oversee tasks in one of six different views.
Infinity users can create an unlimited number of boards within a workspace to manage private and professional tasks in one space. You can pick from 20 custom attributes like progress bars, checkboxes, or checklists and add them to any task.
Switch between Table, Columns, List, Calendar, Gantt, and Form views with a single click to organize tasks as Kanban cards, calendar items, Gantt charts, or whatever structure makes the most sense.
"Michael Jordan of Project management tools. Super useful, intuitive, user—friendly app & dedicated team." — Matija Golubovic, Product Hunt review
Why bother switching from one app to another when you can manage all work within Infinity? You can integrate over 2,000 tools with Infinity using the Zapier integration or use custom Clockify and Trello integrations to track time and import tasks from Trello in a matter of seconds.
Watch this short walkthrough to see Infinity in action:
INFINITY TIP: When creating a form, it's best to immediately create one tab with the Table view and another tab with your form. Additionally, it's a good idea to keep the form in a separate folder, for easier organization.
Time is money, and Infinity helps save as much as possible. Don't build projects from scratch when you can use dozens of project planning and management templates instead!
Check out some of our templates:
This is just the tip of the iceberg—if you want to know more about Infinity's powerful tools, check out the key features below.
Key Features
Infinity has a hefty collection of project planning tools all in one:
Infinite Structure—There's no limit to the number of boards, items, folders, or subfolders you can create and customize.
Different Views—You can make a killer project plan and still fail if you don't visualize it properly. Infinity features 6 views—Calendar, Gantt, Column, Table, Form, and List (all of them are super-useful for project planning and tracking) that can give you a better perspective of how your plan develops and optimize the project planning process.
Customizable Attributes—There are 20 custom attribute types you can assign to every step of your project. You can, for example, set custom statuses for tasks, from planned to completed, and color-code each. Or, you can add date and time fields to set start and planned task completion dates.
Filters, Group & Sort—Group tasks by project, status, priority, end date, or any other custom attribute to see how far you have come and whether everything is going according to the plan.
Team Collaboration—Invite members of your team to share their ideas and include the good ones in your project plan. They can make suggestions as the project progresses as well, collaborate on tasks, help each other overcome obstacles, and make sure deadlines are met.
Task Management—With Infinity, you can plan projects and track their execution. Each project consists of tasks, and our software lets you create a task structure that is easy to follow. Assign tasks to your teammates, break down complex tasks into sub-tasks or use checkboxes, visualize them all on a single page, and check their status as a click.
Pricing
Infinity has time-limited lifetime offers starting at $249 for up to 10 team members. There is also a 30-day money-back guarantee that works as a trial period.
2. Freedcamp — A Free Project Planning Software
Image Source: freedcamp.com
If you're on a tight budget, Freedcamp is one of the few free project planning software on this list. Users can organize projects using different views like a Gantt chart or Kanban board, which can be very helpful depending on the kind of project you're working on. Keep in mind that some of these features (like a Gantt chart) are only available in paid plans.
After creating a task list, you can add subtasks to divide work into small chunks for better organization. The Tasky feature lets you create private tasks for personal projects or sensitive data. You can also create a project planning calendar and add events, tasks, and milestones.
Freedcamp comes with a time tracking tool so you can learn how long it takes to complete tasks or use the time tracker to create invoices for clients. When working with clients, the white-label feature lets you add your company logo and use a custom URL for your Freedcamp workspace.
Taken into account that this project planning software has some pretty nifty features like custom templates, third-party integrations, or issue tracking, choosing a paid plan is definitely worth it. On the other hand, the free version is all you need for planning small-scale and personal projects.
Key Features
Calendar
Milestones
Issue Tracker
Discussions
Wiki
Time Tracking
Passwords
Invoices
Project Templates
CRM
Backups
Widget Board
Task Board
White Label
Files
Third-Party Integrations
Pricing
Freedcamp has a free basic plan and paid plans that start at $1.49 monthly per user when billed annually.
3. Monday.com — A Multifunctional Project Planner Tool
Image Source: monday.com
Monday.com is one of the most diverse project planning tools on this list, with features tailored to a variety of industries from sales to construction. The UI comes with a modern design and colorful items, and you can color-code your tasks whichever way you like.
If you're looking to save time or you're not sure where to start, Monday.com has custom templates for all kinds of projects and project phases. You can switch between map, calendar, timeline, and Kanban views when managing your tasks.
Another great way to save time on repetitive tasks is to use the automations feature so you don't have to create the same task over and over again. You can even automate certain actions like creating a new lead from every email you receive via a form.
You can centralize your task pipeline by integrating Monday.com with other tools - Slack, GitHub, Salesforce to name a few. If you need a feature that's missing in your workspace, Monday.com has its apps marketplace full of custom widgets, integrations, automations, and similar tools for enhancing productivity and project management.
Key Features
API
Third-Party Integrations
Access/Permissions Control
Data Import/Export
Search Functionality
Template Management
Categorization/Structuring
Team Collaboration
Timeline & Gantt Chart
To-do Lists
Calendar Management
Kanban
Spreadsheets/Tables
File/Docs Management
Customizable Fields
Task Management
Drag & Drop Interface
Data Filtering
Reporting & Statistics
Activity Tracking
Progress Tracking
Time Tracking
Public/Shared Workspace
Pricing
Monday.com plans start at $24 per month when billed annually.
4. Wrike — An Agile Project Planning Tool
Image Source: wrike.com
Wrike is an agile software for project planning that comes with additional capabilities like client management or enterprise project management. Thanks to its flexibility, Wrike can be used across many departments within a company, from marketing to product development. When talking about marketing, make sure to check out Wrike for Marketers which is a tool designed specifically for digital asset management and publishing.
Users can customize their workflow by switching between different views like Gantt charts or Kanban boards. Wrike offers pre-made templates for different aspects of task management and organization. One of the newest additions to Wrike's capabilities is Work Intelligence, which is an AI-powered tool for automation and project risk prediction.
Like many other project planning software on this list, Wrike offers integrations with tools like Gmail, GitHub, Jira, Slack, Dropbox, and dozens of others. Users can build enterprise apps and develop custom integrations by using Wrike APIs.
If you're an individual or a small team looking for a free project planning software, make sure to check out Wrike's basic plan that is free of charge.
Key Features
API
Third-Party Integrations
Access/Permissions Control
Data Import/Export
Search Functionality
Template Management
Categorization/Structuring
Team Collaboration
Timeline & Gantt Chart
Calendar Management
Kanban
Spreadsheets/Tables
File/Docs Management
Customizable Fields
Task Management
Drag & Drop Interface
Data Filtering
Reporting & Statistics
Activity Tracking
Progress Tracking
Public/Shared Workspace
Pricing
Wrike has a free simple plan for small teams and paid plans that start at $9.80 monthly per user.
5. Hive — A Project Planning and Productivity Software
Image Source: hive.com
Hive is a centralized platform for project planning and work management, letting you manage all work in one place. Dashboards are the central part of each user's workspace, and they provide an overview of all tasks.
You can view all your tasks under the My Actions tab, and break them into current, future, completed, and "assigned by me" tasks. The Forms tool lets you create custom forms and gather and parse information collected within them. Users can save time on creating repeatable tasks via Hive templates and simply duplicate any task.
An integrated inbox allows you to add Gmail and Outlook directly into Hive where you can open emails or attach them to tasks. There are also dozens of other integrations with tools like Slack, Salesforce, Marketo, and many others.
Robust Hive Analytics lets you utilize dashboards to track project completion, individual actions, most productive days of the week, and overdue actions by project.
Key Features
Flexible Project Views
Analytics
Dashboard
Forms
Templates
Proofing
Approvals
Automation
Hive Mail
Hive Chat
Comments
Third-Party Integrations
Pricing
Hive plans start at $12 monthly per user when billed annually.
6. nTask — A Project Planning and Management Tool
Image Source: ntaskmanager.com
nTask is a project planning tool great for both individuals and teams. Freelancers and solopreneurs can manage personal and work projects with ease, and teams can benefit from nTask's online collaboration capabilities.
When planning your project, don't miss out on nTask's advanced features like budgeting, resource allocation, and work capacity. This tool will guide you through project planning step by step and help you define all project deliverables.
Teams that use nTask can communicate using team chat to share project updates, attach documents, or have one-on-one chat with other team members. nTask makes it easy to plan and schedule meetings as well as to assign tasks to team members. When it comes to meetings, you can create and share a meeting agenda, bookmark key discussion points during the meeting, and add follow-up actions and decisions.
If you need to connect other apps to your nTask workspace, you can do it via Zapier integration that supports hundreds of different tools.
Key Features
Collaboration Tools
Create Subtasks
Gantt/Timeline View
Mobile Access
Percent-Complete Tracking
Recurring Task Management
Task Board View
Time Tracking
To-Do List View
Meetings
Pricing
nTask has a free basic plan for individuals/freelancers and paid plans that start at $2.99 monthly per user when billed annually.
7. Asana — A Powerful Project Planning App
Image Source: asana.com
Asana is a project planner that's chock full of features including online collaboration, workflow management, project roadmaps, and a lot more. There are capabilities tailored to meet the needs of different departments including engineering, marketing, sales, and HR.
Forget about spreadsheets—Asana offers different project views like Boards, List, Timeline, and Calendar to simplify project planning. You can break down tasks into subtasks, create milestones, or use custom fields to personalize your workspace.
When it comes to teamwork, Asana users get an inbox where they receive messages, comments, and requests from other team members. You can create status updates to share with the rest of the team and align all members at once.
If you're looking for a free project planning software for smaller projects, Asana has a free basic plan with limited features. Still, if you plan on using this tool for team projects, consider investing in a paid plan that has advanced features and collaboration capabilities.
Key Features
API
Third-Party Integrations
Access/Permission Control
Data Import/Export
Search Functionality
Template Management
Categorization/Structuring
Team Collaboration
Chat & Messaging (Inbox)
Timeline & Gantt Chart
Calendar Management
Kanban (Board)
File/Docs Management
Customizable Fields
Task Management
Drag & Drop Interface
Data Filtering
Reporting & Statistics
Activity Tracking
Progress Tracking
Public/Shared Workspace
Pricing
Asana has a free basic plan with limited features and paid plans that start at $10.99 when billed annually.
8. Scoro — An All-in-One Project Planner Software
Image Source: scoro.com
Those looking for a tool that's not just a simple project planner should consider purchasing a Scoro plan. This versatile software comes with a number of tools for project management, work management, sales, CRM, finances, reporting and dashboards, and integrations.
Customizable views let you manage your whole project portfolio at once by planning, scheduling, and tracking all projects in one place. By using Project Timeline you can avoid project overlapping, prioritize tasks, and set realistic deadlines.
Scoro offers templates and task bundles to help you save time on repetitive tasks. Automation lets you turn quotes into projects or create invoices directly from the project view.
One of the most powerful parts of Scoro are its Sales and CRM capabilities. You can track each opportunity in real-time, get a visual overview of your sales funnel, and create a 360-view of each customer including communication history and invoices.
Key Features
Projects Timeline
Planner
Dashboard
Project Profitability Tracking
Automation
Dynamic Reports
Calendars
Task Lists
Timesheets
Time Tracker
Task Matrix
Sales
CRM
Pricing
Scoro plans start at $26 monthly per user when billed annually.
9. ClickUp — A Versatile Project Planning Tool
Image Source: clickup.com
ClickUp is a multi-functional software for project planning that helps facilitate teamwork and increase productivity.
You can choose between different project views like boards, lists, Gantt charts, or calendars when managing your projects. Creating task dependencies is a great way to connect dependable tasks and follow the natural workflow of your project. This way, it's much easier to predict and identify tasks that create roadblocks and bottlenecks.
ClickUp is great for planning projects according to agile methodologies since it comes with many agile-friendly features. For example, you can award Scrum Points to each task and keep track of the number of points gained during each sprint. If you want to save time, you can rely on hundreds of ready-made templates or create your own using the custom automation builder.
If you're managing a remote team, ClickUp comes in handy with features for team collaboration, document management, task management, and goal tracking. There is a free plan with 100 MB storage that is great for individuals or small teams.
Key Features
Agile Methodologies
Budget Management
Client Portal
Collaboration Tools
Cost-to-Completion Tracking
Customizable Templates
Gantt Charts
Idea Management
Kanban Board
Milestone Tracking
Portfolio Management
Resource Management
Time & Expense Tracking
Traditional Methodologies
Pricing
ClickUp offers a free plan with 100MB storage and paid plans that start at $5 monthly per user when billed annually.
10. MeisterTask — A Project Planning and Management Tool
Image Source: meistertask.com
MeisterTask is a tool that facilitates the project planning process and lets teams collaborate in real-time. A Kanban-like structure gives an overview of all projects as cards within a board that can be ordered and grouped by custom criteria.
This project planning tool comes with a set of task management, automation, monitoring, and reporting features for optimizing your workflow. Still, there are tools on this list that are equipped with a much wider selection of capabilities. Unlike them, MeisterTask doesn't aim at being a one-stop-shop for every aspect of project management.
That being said, MeisterTask isn't a bad tool. On the contrary, it offers everything you need for planning moderately-sized projects and keeping your team aligned through online collaboration in real-time.
Don't forget that MeisterTask has a free basic plan, which makes it one of the best options for those in need of a free project planning software.
Key Features
API
Third-Party Integrations
Access/Permissions Control
Data Import/Export
Search Functionality
Template Management
Categorization/Structuring
Team Collaboration
To-do Lists
Calendar Management
Kanban
File/Docs Management
Customizable Fields
Task Management
Drag & Drop Interface
Data Filtering
Reporting & Statistics
Activity Tracking
Time tracking
Public/Shared Workspace
Pricing
MeisterTask has a free plan with basic features and paid plans that start at $5 per month when billed annually.
11. ProofHub — A Project Planning App for Teams
Image Source: proofhub.com
ProofHub is a great tool for project planning and team collaboration that offers its users a lot of freedom when customizing projects.
For instance, you can choose how to view your project portfolio, and you can group tasks within Gantt charts to track progress within a timeline. If you stick to a Gantt view, it's simple to add tasks, create dependencies, and set milestones for each project.
When assigning tasks, you can do it separately or use a task list feature that lets you assign multiple tasks at once to one or more people. You can keep sensitive information safe by creating private lists and restricting access to people you assign to the list. There's a very handy feature called the Email-In Tasks that lets you add tasks to ProofHub via email without having to log in.
ProofHub can be utilized in a number of different niches thanks to the templates for industries like construction, marketing, or software development.
Key Features
Table View
Kanban Boards
Tasks
Custom Workflows
Custom Roles
Discussions
Calendar Features
Chat
Markup Tools for Proofing
Timesheets
Multiple Language Interface
Reports
Notes
Email-In
White-Labeling
IP Restriction
Announcements
Request Forms
Pricing
Proofhub plans start at $45 per month when billed annually.
12. Trello — A Kanban-Based Project Planner
Image Source: trello.com
Trello is another project planning software based on the Kanban view, providing a card-like overview of tasks within a project. While this works great for small and medium-sized projects, the Kanban board can quickly get messy if you're trying to plan a complex project.
You can customize each Trello card by adding Dive into the details by adding comments, attachments, due dates, labels, or members. Trello offers workflow automation through a tool called Butler that lets you create rule-based triggers, custom card and board features, calendar commands, and due date commands.
Despite providing features like third-party integrations or sync across devices, Trello's capabilities are limited due to the Kanban view.
On the positive side, Trello is a great project planning tool for online collaboration and can do wonders for small teams. It also has a free plan that allows up to ten boards per team and has a limit of 10 MB per attachment.
Key Features
Budget Management
Collaboration Tools
Due Date Tracking
Gantt Charts
Kanban Board
Prioritization
Progress Tracking
Resource Management
Task Management
Template Management?
Pricing
Trello has a free plan with 10 boards per team and 10 MB per attachment and paid plans that start at $9.99 per user per month when billed annually.
13. Mavenlink — An Online Project Planning Tool
Image Source: mavenlink.com
Mavenlink is an innovative project planner with dynamic resource optimization and award-winning technology for project and resource management.
This tool offers a scalable overview that lets you manage a handful of projects or hundreds of projects at the same time. The overview provides the status and health for each project, enabling you to make better business decisions based on the insights.
Mavenlink comes with great process automation and process governance features that let you create custom templates and reuse them across projects. The Project Pulse feature gives a real-time health of a project and various scheduling, budget, and scope information.
If you need more information, business intelligence and reporting features have over 60 out-of-the-box reports and dashboards. Another great addition are forecasting capabilities that provide forecasts on revenue, margins, and resource capacity.
Key Features
Gantt Chart
Templates
Project Pulse
Insights Reports
Third-Party Integrations
Resource Management
Configurable Resource Recommendations
Team Builder
Master Planning
Forecasting
Mentions
Email Notifications
Time Tracking
Mavenlink Insights Business Intelligence
Margin Reports
Work In Progress (WIP) Reports
Pricing
Mavenlink pricing plans are available on request.
14. Airtable — A Spreadsheet-Powered Project Planning App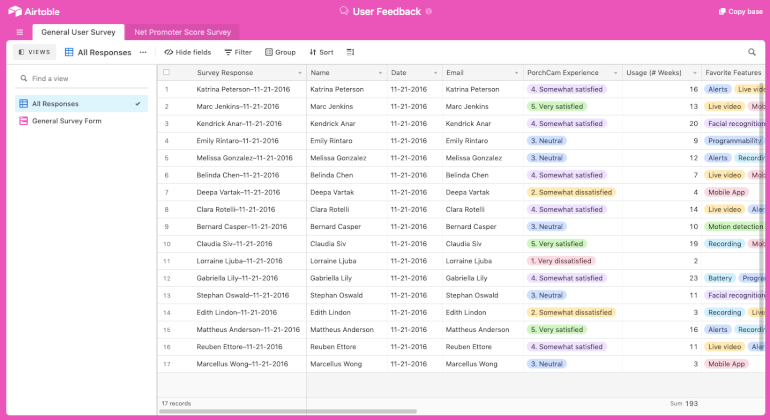 Image Source: airtable.com
Airtable is a project planning software that is a combination of an online database and a spreadsheet. Thanks to a flexible relational data model, you can easily switch between Grid, Calendar, Kanban, and Gallery views while keeping all data dependencies in place.
You don't have to plan your project from scratch—Airtable has templates for over 20 different categories including content production, real estate, software development, nonprofit, and many more. When you have your project up and running, you can quickly filter, sort, and group data to show only the most important information.
Airtable automations enable you to send notifications, automate tasks, and integrate with other tools. You can choose from Zapier, Workato, Integromat, and Automate.io integrations to add third-party apps to your Airtable workspace.
Unlike Infinity, Airtable project planner doesn't have 24/7 live support, so you'll have to rely on email support or a self-serve knowledge base if you encounter an issue.
Key Features
API
Third-Party Integrations
Access/Permission Control
Data Import/Export
Search Functionality
Template Management
Categorization/Structuring
Team Collaboration
Chat & Messaging
Timeline & Gantt Chart
Calendar Management
Kanban
Spreadsheets/Tables
File/Docs Management
Customizable Fields
Task Management
Drag & Drop Interface
Data Filtering
Reporting & Statistics
Activity Tracking
Progress Tracking
Public/Shared Workspace
Pricing
Airtable has a free plan with basic features like 1,200 records per base and 1 synced table per base through April 2021. For paid plans, the pricing starts at $10 monthly per user when billed annually.
15. Azendoo — A Project Planning and Management Software
Image Source: azendoo.com
Azendoo offers a multitude of project planning tools for work management, team communication, task planning, time tracking, and more. You can easily create and assign tasks, organize them the way you like, and track the amount of time spent on each task.
When it comes to task management, Azendoo has pretty much a standard set of features such as task comments, prioritizing, and organizing. A nice addition is being able to import task lists directly from Evernote or Trello. Also, you can export tasks as Evernote lists, CSV, or JSON files.
The Tracking feature enables connecting dependent tasks by links, so you can follow the task flow and plan ahead. If you mark a task as recurring, you can choose how often to repeat it so you don't waste time recreating the same task over and over again.
Azendoo project planner has some interesting features like Secret Topics for sensitive group discussions or Statistics for an overview of team activities in numbers. Native integrations allow users to share content from YouTube, Facebook, SlideShare, etc. directly into their Azendoo workspace.
Key Features
Task Planning
Calendar
Task Assignment
Time Tracking
Multi-Tagging
Importing/Exporting Task Lists
Email To Task
Task Collaboration
Boards
Recurrence
Real-Time Messaging
Third-Party Integrations
Statistics
Pricing
Azendoo plans start at $8 monthly per user when billed annually.
16. TeamGantt — An Online Gantt Chart Software and Project Planning Tool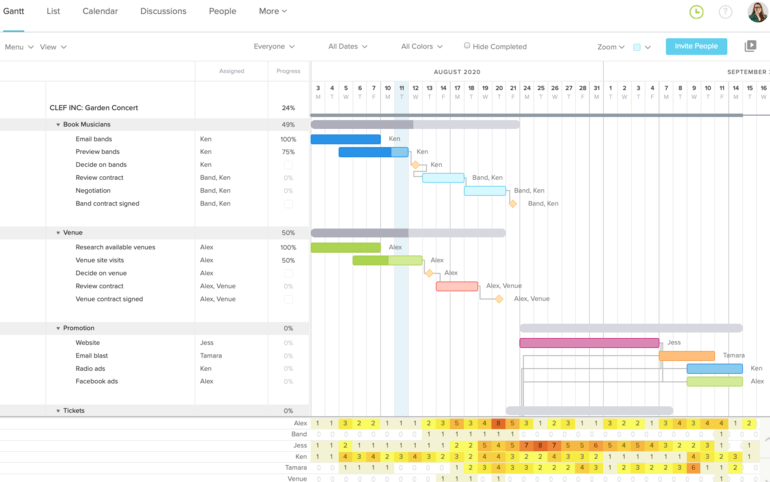 Image Source: teamgantt.com
TeamGantt is a free project planning software that comes with refreshingly simple Gantt charts. These charts make it a breeze to plan (and collaborate on your plans with the team), schedule, and manage projects.
Creating tasks in TeamGantt is easy as ABC and scheduling them is even easier. The app's drag and drop functionality allows you to simply arrange tasks across the Gantt chart and track their completion as well.
The app lets you create reusable project plan templates and save up some time for future projects but also plan workloads, check your team's availability before assigning tasks, and ensure no member is overloaded with work. Either way, your project plan will show who's busy and who's not.
This online project planner stores all your project-related info (documents, files, convos, and updates) under a single, centralized hub and makes them easily searchable. Once you have everything set up, you can compare planned and actual projections and create reports to gain more insight into your team's performance.
TeamGantt comes with time tracking features so that you can track hours spent on tasks and projects, lets you monitor the costs and profitability of each project so you can learn from this data when planning future projects.
Key Features
Project Plan Templates
Drag and Drop Simplicity
Workload Forecasting
Subgroups and Tasks
Dependencies
Gantt Charts
Calendar and List Views
Timelines
Time Tracking
Project History
Reporting Features
Pricing
TeamGantt is free forever for individuals. If you are working with a team, you can sign up for one of their paid plans ($24.95/month or $29/month) that come with premium project planning features.
17. Toggl Plan — A Beautifully Simple Project Planner
Image Source: toggle.com/plan/-project-planning
Hunting for an easy-to-use, fully-featured project planning software? Toggl Plan is the type of tool that makes planning projects surprisingly simple. It literally takes minutes to make a plan, share it with everybody who needs to be in the loop, make changes on the go, and stay on track with progress.
Planning projects with Toggl Plan doesn't feel like a chore because the app has no learning curve. You can plan and organize everything in a click as this software boasts the famous drag-and-drop functionality and gives you a gorgeous visual outline of your plan.
Featuring Kanban boards, Toggl Plan lets you create and track tasks, assign them, create custom statuses, set deadlines, manage other details, while switching back to timeline takes seconds.
It's good to know you can use Toggl Plan two ways—as a team calendar or project calendar, which makes it a good choice if you are juggling multiple projects at a time and lets you know what your team is on at any moment.
All in one, you can use Toggl Plan to handle project planning and management and visualize workloads, track progress and team performance, comment under tasks and projects and collaborate seamlessly with the team, and have it all displayed on a colorful dashboard that gives you a birds-eye perspective of projects.
Key Features
Plan Boards
Plan Timelines
Team Timelines
Multi-Assign Tasks
Milestones/
Recurring Tasks
Priority Support
Kanban Boards
Annual View
In-App Notifications
Toggl Track Integration (Time Tracking)
Pricing
You have 14 days to explore all of the Toggl Plan's features, then you can decide whether you want to go solo or use their team or business plan ($8/$13/user/month).
18. Smartsheet — A Dynamic Yet Simple Project Planning Software
Image Source: smartsheet.com
Smartsheet is among the best project planning software for a myriad of reasons. It empowers everyone on the team to map out key project elements, processes, and workflows, improves collaboration, and helps with getting more done. Besides it charts your vision on a timeline, Smartsheet also allows your peers to share ideas on the go.
This project planning and management platform can truly ensure you don't fall behind your project plan and lets you track tasks and get a clear overview of priorities, especially when you are simultaneously working on multiple projects. Shortly, it holds you and your team accountable.
Smartsheet ensures your projects are running smoothly, improves resource allocation, and increases visibility with project summaries and rich data reports that give you a clear understanding of how great (or, God forbid, not so great) your plan and strategy are.
In conclusion, this project planner tracks your budget and, more precisely, compares planned and actual spent budget, project profitability, and maintains transparency for all of your financials.
Key Features
Project Plan Templates
Strategic Planning
Resource Management
Multiple Views (Kanban, Timeline, Gantt, Grid)
To-Do Lists
Task Statuses
Rollups
Automated Work Processes
Live Charts
Dashboards
Rich-Data Reports
Pricing
Smartsheet has 2 groups of plans, standard and enterprise. Standard plans include an individual ($14/month) and a business plan ($25). If you are interested in their enterprise plans, contact them for more info.
19. Miro — A Visual Strategic Project Planning Tool
Image Source: miro.com
Miro is a unique project planning solution with a breath-taking, colorful, and overall super-easy to use interface. This tool is built to help you plan, set plans in motion, and execute them successfully.
It comes with over 50 strategy and planning templates (Workflow, Roadmap, PI Planning, Gantt Chart) so you can organize and visualize projects using diagrams but also organize resources and tasks, draw dependency lines, and add a dash of color to make this whole process more fun to the team.
If you are working with remote teams, Miro lets you run engaging planning sessions so your co-workers can take part, share ideas, and discuss plans regardless of their location, which will ensure everyone is on the same page.
You can use Miro to build beautiful plan presentations, present them live to your teammates and stakeholders, or export and distribute them with a few clicks. Being one of the notable project planning and management platforms, Miro makes it a breeze to manage workloads, manage and track progress, and make changes on the move.
Key Features
Gallery of Planning Templates
Remote Planning Sessions
Live Plan Presentations
Gantt Charts
Task Dependencies
Sticky Notes
Real-Time Collaboration
Timer
Advanced Sorting and Filtering
Admin Insight Dashboards
Jira, Slack, Dropbox, Box, Sketch, and Google Suite Integrations
Pricing
Teams can use Miro for free (limited features) or sign up for a paid plan ($8/user/month and up).
20. ProjectManager.com — A Planning Software for Any Type of Project
Image Source: projectmanager.com
ProjectManager.com is the type of tool that can help every step of the project planning process—risk and resource management, task management and prioritization, milestone and task dependencies scheduling, reporting (we can go 'till tomorrow).
And it goes like this—identify your vision and define your project scope, set goals and objectives, create a project schedule, define budgets, assign tasks, and generate progress reports to make sure you stick to the plan. Once you set up a plan and create and allocate tasks, you can have them all displayed on a simple Gantt chart, set start and planned due dates, link dependant tasks, and set a baseline so you can monitor the actual progress against the plan.
With ProjectManager.com, you can focus on planning and managing multiple projects at a time. You can even map all of your projects on a timeline to track progress on each from a single page and edit your plans by a simple drag and drop. As soon as you change the date to a task, ProjectManager.com automatically updates other impacted tasks and modifies your plan.
You can always make up all the plans yourself, but why would you? This project planner comes with a free project plan template you can easily adjust and write your plan on the double.
Key Features
Customizable Project Plan Template
Project Portfolio Management
Project Group
Dynamic Task Lists
Calendars
Gantt Charts
Milestones
Task Dependencies
Kanban Boards
Team and Workload Management
Timesheets
Advanced Reports
Pricing
Project Manager has a free 30-day trial for all of their new users. When the trial period expires, you can choose between 3 paid plans—personal ($15/user/month), team ($20/user/month), and business ($25/user/month).
Conclusion
Choosing the best project planning software isn't easy, but we hope that you've found the software you were looking for among these 20 tools. We did our best to include everything from free tools to more expensive software to meet everyone's budget.
If Infinity has piqued your interest, feel free to schedule a demo call with us or drop us an email at team@startinfinity.com and we'll be happy to answer any questions you may have. And don't forget—the time-limited lifetime deal is still active, so don't miss a chance to get Infinity forever for just $249!
FAQ
What is a project planning tool? A project planning tool is a type of project management software that allows you to focus only on planning and completing your projects on time. A project planning tool is meant to help you be more efficient, keep an eye on deadlines, and lower stress levels for both you and your team. What is the best project planning software? Seeing that there are plenty of project planning tools available on the market, with a variety of features, there's not a right answer to this question. It all depends on what you need, how much you're willing to spend on this software, and which features you expect. How do you choose the right project planning tool? In general, a good project planning tool should be fairly easy to use, allow you to efficiently collaborate with your team, be flexible enough, and offer things like time tracking so that you can manage your projects better. Why should you pick Infinity for project planning? Infinity allows you to easily track progress of your projects, view everything in Gantt charts, and create your own structure. You can also communicate and collaborate with the rest of your team on all projects and tasks, and ensure everything's done on time. What does Infinity's lifetime deal mean for your team? You pay once and use Infinity forever, while your team members can use Infinity for free, as long as they stay within the workspaces you got. There are five plans to choose from, so you can pick the one that's best for you depending on how many team members you have, how many workspaces you need, and how much storage.